Schools Month 2019: "The Young Artist" (Yarram Secondary College)
SCHOOLS MONTH @ YARRAM COURTHOUSE GALLERY.
Schools Month is an annual fixture at Yarram Courthouse Gallery where the various schools in the district take turns in displaying their students work for the benefit of the community.
This year we have the pleasure of seeing the artworks of the students of:
YARRAM SECONDARY COLLEGE
"The Young Artist" is a collection of artworks across mediums and year levels. Year 7 students have been working on some lino prints, most of them for the first time. On the other side of the scope, our senior students will be presenting a range of works from drawings to paintings. Year 8 students will be showcasing their photographs in a range of creative presentation styles and Year 9 students have made some Zines. The collection is an example of the many ideas and styles that young people bring to the artistic community and we are proud to share it.
"Light seeks through" by Emerald (Year 11)
"Untitled" by Kaylah (Year 11)
"Yes" by Sierra (Year 11)
"Spyeyeder" by Eden (Year 12)
"Forgotten" by Sierra (Year 11)
"Untitled" by Sierra (Year 8)
"Flower Power" by Mikayla (Year 8)
"Cheshire Cat" by Erin (Year 7)
"Doggo" by Leilani (Year 7)
"Universe" by Trent (Year 10)
"Weeping Mask" by Chloe (Year 11)
"Ebony and Ivory" by Justice (Year 10)
"Food around the world" by Jack (Year 9)
"Music around the world" by Lily (Year 9)
"Basically, I'm Monke" by Angus (Year 11)
"Devil's Daughter" by Felicity (Year 10)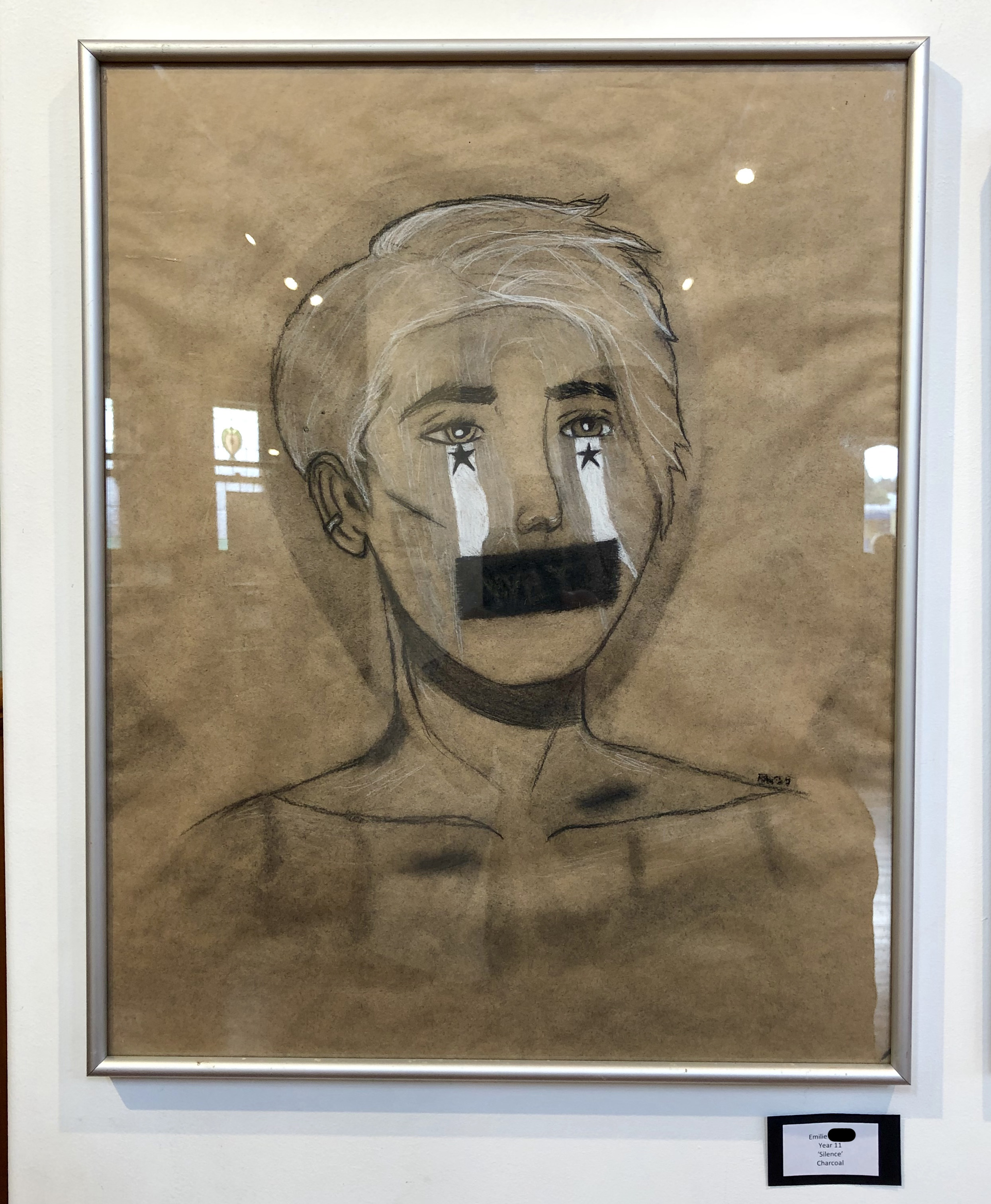 "Silence" by Emilie (Year 11)
"Rainbow mouth" by Ebony (Year 11)
"ROT" by Kaylah (Year 11)
"Five Seasons" by Grace (Year 7)
"Eggo" by Natasha (Year 7)
"The tears of Sin" by Eden (Year 12)
"Licola" by Candace (Year 10)
"Cheshire Cat" by Erin (Year 7)
"France" by Mesha, "Eminem" by Isabelle, "Recreation" by Brock, "3D Printing" by Declan, "Street Art" by Alexi, "Youfish" by Leo and "CS+GO" by Jarian (Year 9 Students)
"Doggo" by Leilani (Year 7)
"Five Seasons" by Grace (Year 7)
"Rainbow mouth" by Ebony (Year 11)
"Ebony and Ivory" by Justice (Year 10)
"Food around the world" by Jack (Year 9)
"Weeping Mask" by Chloe (Year 11)
"Universe" by Trent (Year 10)
"Pikachu" by Kelsey (Year 7)
"Shark" by Jayde (Year 7)
"Hit the 80's" by Lachlan (Year 12)
"Pixel art" by Kane (Year 11)
"Out of the box" by Angus (Year 11)
"Happy" by Kane (Year 11)
"Identity" by Joel (Year 10)
"Puppies in the sun" by Kyle (Year 11)
"Frog" by Chelsea (Year 7)
"Cows" by Charlie (Year 7)
"Untitled" by Kaylah (Year 7)
"Untitled" by Kaylin (Year 7)
"Untitled" by Thomas (Year 7)
"Fish" by Travis (Year 7)
"Turtle" by Teshawn (Year 7)
"Dragon" by Grace (Year 7)
"Gaming" by Moni (Year 7)
"Untitled" by Michael (Year 7)
"Untitled" by Daetona (Year 9)
"Sunflower" by Tiara (Year 11)
"Untitled" by Ella (Year 7)
"On the line" by Takara, "Untitled" by Kaylah, "Untitled" by Tara, "Untitled" by India, "Untitled" by Kate, "Untitled" by Bri, "Pollution" by Mylie and "Untitled" by Samantha (Year 8 Students)
"Footy Pics" by Jett, "The spiral" by Riley, "Hanging by a thread" by Lily and "Untitled" by Ella (Year 8 Students)
"Looking Up" by Sylvia (Year 8)
"Wolf" by Cherrie (Year 7)
"The masquerade of school" by Serena (Year 8)
"Untitled" by Tamika (Year 9)
Opening Night Celebrations
Opening Night Celebrations
Opening Night Celebrations
Opening Night Celebrations
Opening Night Celebrations
Opening Night Celebrations
Opening Night Celebrations
Opening Night Celebrations
Opening Night Celebrations
Opening Night Celebrations
Opening Night Celebrations
Opening Night Celebrations
"The Young Artist" Opening Night Celebrations
"The Young Artist" Opening Night Celebrations
"The Young Artist" Opening Night Celebrations
Opening Night Celebrations
Comments
Kristy W. & Jason T. - " :-) " … 11 June 2019
Miriam Stackhouse, Yarram - "Some promising talent - Congratulations all." … 15 June 2019
Fowler Family, Yarram - "Hope some of these artists go on to continue their art." … 16 June 2019
Mr. Denholme - "Lovely art show" … 17 June 2019
Justice W. - "It was all presented nicely" … 17 June 2019
Ebony B. - "Set up nicely!!" … 17 June 2019
David. Myers - "Great presentation & talents - Keep it going." … 17 June 2019
Wendy Brown - "Fantastic work!" … 19 June 2019
Mr. & Mrs. D. & A. Vrybergen - "Young artists congratulations! Well Done."
Jules & Georgia, Bairnsdale - "Lovely artwork" … 2 July 2019