Viewpoints' - a collaborative exhibition by Gippsland artists, Carol Linton and Leigh Fraser, Photographer Sue Juha and Printmaker Rosie Lyons.
Sue Juha
Since purchasing my first DSLR camera many years ago, my love for taking photos has taken me all over Gippsland and around Australia. I enjoy venturing out in nature and sightseeing through the city, capturing photos to reminisce and share with my family and friends.
I have been a member of the Latrobe Valley Camera Club for 5 years and have enjoyed learning and sharing my experiences with other passionate photographers. I scrapbook many of my photos in fun and creative memory books for my family and close friends to enjoy. I also love the challenge of creating abstract photography I Photoshop.
This is my first exhibition showcasing my passion for photography with landscapes and wildlife, all captured in our own picturesque backyard – Gippsland.
Leigh Fraser
Leigh Fraser was born some time last century.
He happily lives and works in South Gippsland continuing to find inspiration in the light and tones around him.
He has studied in the Tonal Impressionist style of the 20 Melbourne Painters' Society under John Dudley and others.
Carol Linton
Self-taught, Carol began her art career at the age of 16, working for the Myer Emporium, making lampshades, and hand painting them.
Ten years later she was painting Guy Boyd pottery, and then painting giftware for Hollman Tinware. This was followed by time spent decorating ceramic tiles at Nicholson Tiles, in Elsternwick, near Melbourne.
Exhibiting her own work in 1973, Carol started winning numerous awards for her oils and watercolours. Other awards followed.
Carol worked for ten years with the Hallworth House Gallery in Yarrawonga, where she exhibited and demonstrated annually with solo shows, as well as showing at many other rural galleries in country Victoria. For a time she was kept very busy exhibiting exclusively for a Phillip Island gallery.
In the mid 1970s, she joined the Peninsula Art Society. After moving to Swan Walk, Chelsea in Dec 1976, at the Karingal Hub annual art exhibition, she won a major prize in the late 70s. At the prestigious Chelsea Art Society's annual show in the 1980s, she won an acquisitive award (and simultaneously, First Prize).
At the Southland centre gallery, she exhibited at its third floor gallery space. In 1984, she exhibited 50 paintings together with Margo Sykes and John Canning (3 Australians at work) at the AMP building in Melbourne.
Retiring to Wonthaggi in 1993, she opened three rooms of her miner's cottage home as a gallery. She began to make papier mȃché sculptures and take on many commissions in a variety of media. After thirteen years there, she discovered Toora in South Gippsland, and relocated to a home with a shopfront gallery, experimenting successfully with different painting styles. Her quirky depictions of rural and domestic scenes delight visitors and locals alike.
She continues to sell her work at various venues and at the Toora Village Studio Gallery, of which she was a founding member. She plans to create a new gallery next to her latest home in Toora.
Her work is well represented in the U.K., Europe, U.S.A. and Japan.
Rosie Lyons
ROSIE LYONS' art practice stems from her strong foundation in design, textiles and printmaking. She loves to explore many mediums and in this exhibition you can see etchings & paintings as well as lino block printing on textiles which were inspired by her many visits to India.
Her influence mainly comes from Mother Nature as it is all inspiring, fascinating and always so perfect down to the most minute detail. As all artists influence each other, she loves seeing what other people produce, each artist having a different technique which is always interesting.
Rosie has exhibited in Seattle & Los Angeles, USA, Canada and Rome as well in Melbourne, Albert Park the Mornington Peninsula, Warburton, Foster and Fish Creek.
Artists Portraits
Opening Night Celebrations
Opening Night, 30th August, 2019
Opening Night, 30th August, 2019
Opening Night, 30th August, 2019
Opening Night, 30th August, 2019
Opening Night, 30th August, 2019
Opening Night, 30th August, 2019
Opening Night, 30th August, 2019
Opening Night, 30th August, 2019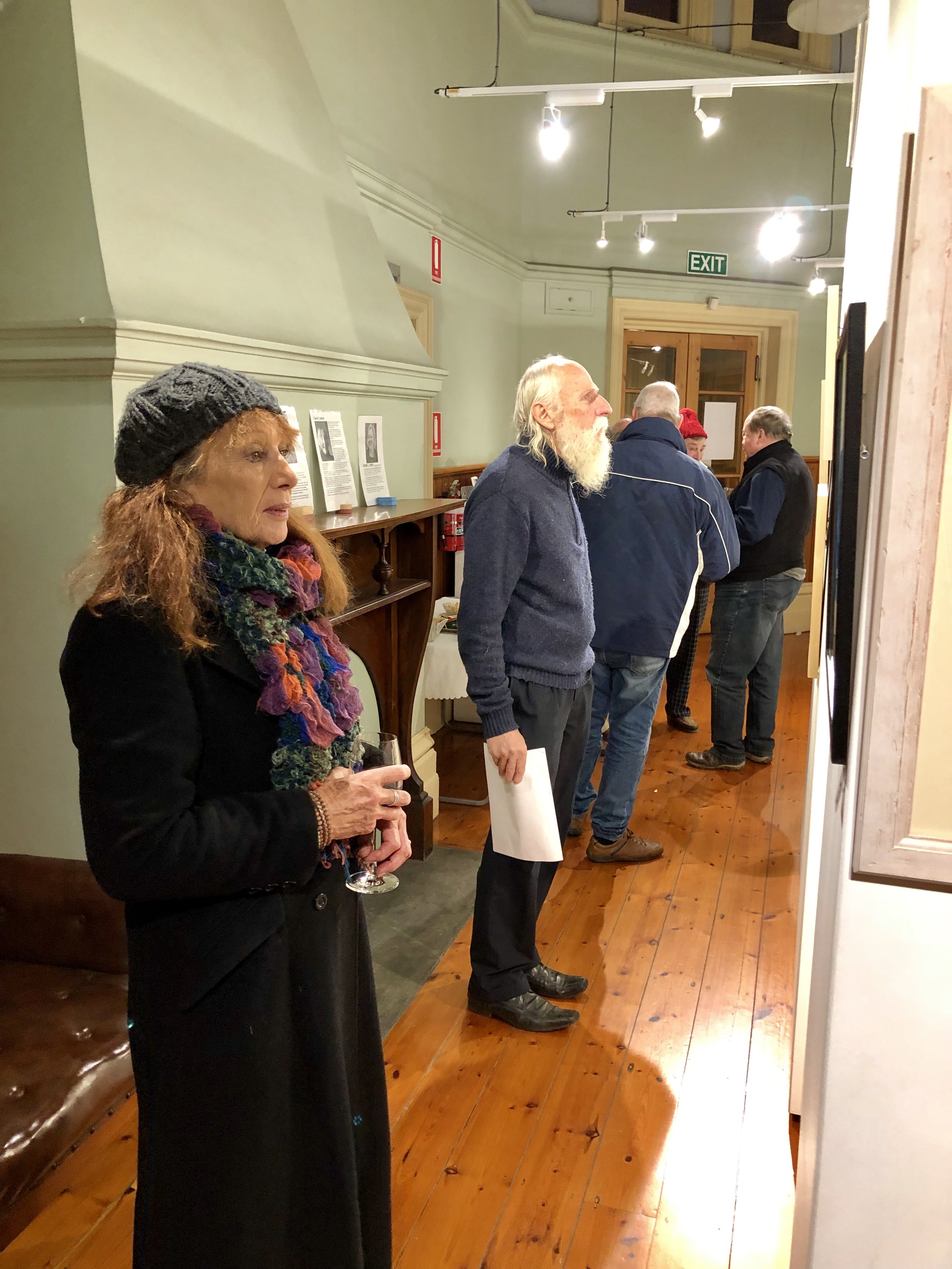 Opening Night, 30th August, 2019
Opening Night, 30th August, 2019
Opening Night, 30th August, 2019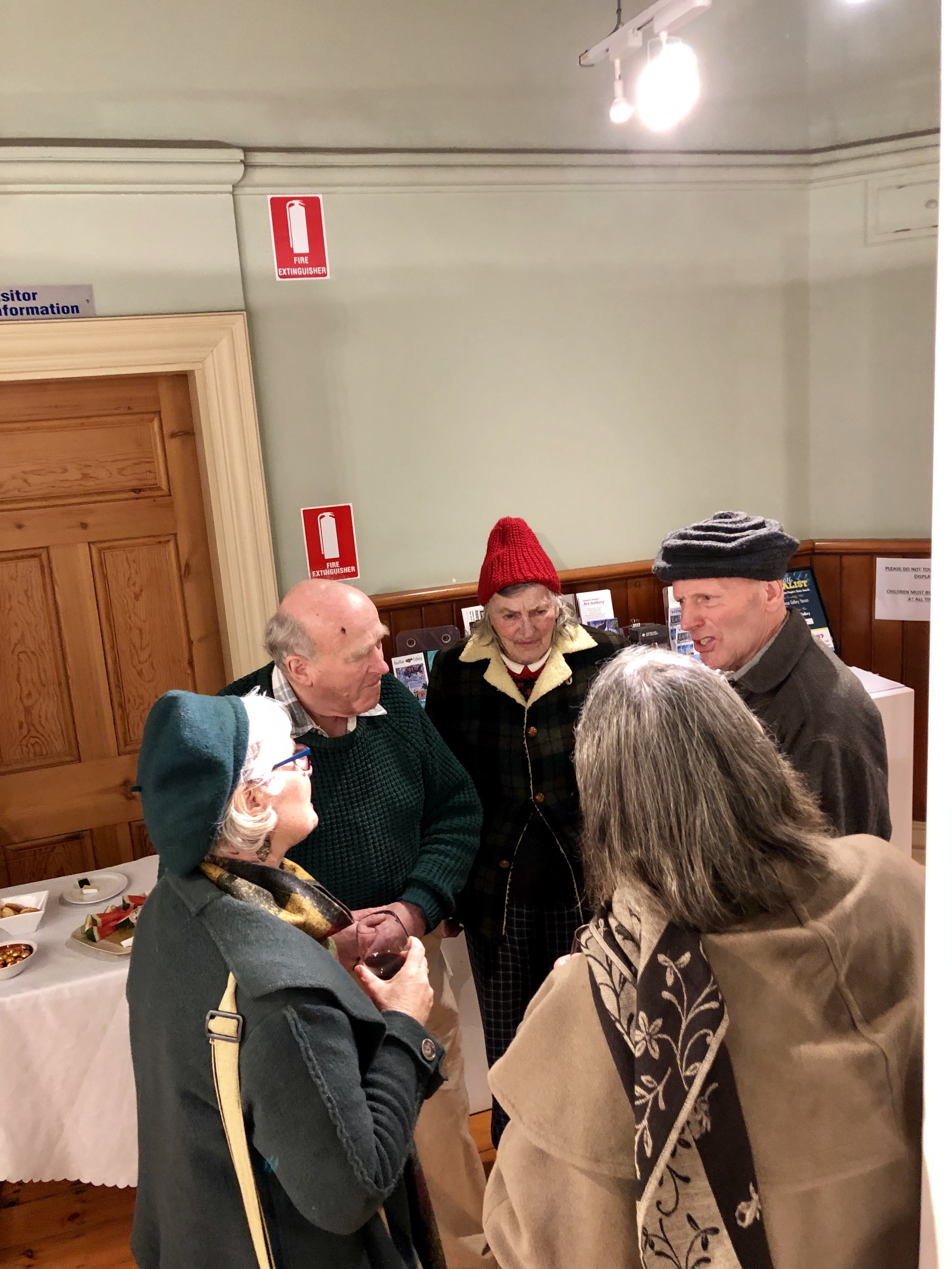 Opening Night, 30th August, 2019
Opening Night, 30th August, 2019
Opening Night, 30th August, 2019
Hanging Day, 28th August, 2019
Hanging Day, 28th August, 2019
Hanging Day, 28th August, 2019
Hanging Day, 28th August, 2019
Hanging Day, 28th August, 2019
Hanging Day, 28th August, 2019
Hanging Day, 28th August, 2019
Hanging Day, 28th August, 2019
"Flirtation" by Carol Linton
"I can see you" by Sue Juha
"Corner Inlet, South Gippsland" by Leigh Fraser
"Dinner Time" by Leigh Fraser
"Perfect Day" by Leigh Fraser
"Bird Collage" by Carol Linton
"Tarra Bulga" by Rosie Lyons
"Brugmansia (1)" by Carol Linton
"Inlet Farm view" by Leigh Fraser
"From Norman Point" by Leigh Fraser
"Spring Garden" by Rosie Lyons
"Kiwi Blossom" by Rosie Lyons
"School of Fish" by Rosie Lyons
"Printed Mugs" by Rosie Lyons
"Vase of Flowers" by Rosie Lyons
"Sunflower" by Rosie Lyons
"Still Life with Casserole" by Carol Linton
"Dandelion in B&W" by Sue Juha
"Yellow Iris" by Carol Linton
"Sun rising over Port Albert" by Sue Juha
"Whale & School of Fish" by Rosie Lyons
"Humpback Whales" by Rosie Lyons
"Southern Twilight" by Leigh Fraser
"Irises and Hydrangeas" by Carol Linton
"In Port" by Leigh Fraser
"Morning Mist" by Leigh Fraser
"Autumn Surprise" by Leigh Fraser
"Yarra Valley view" by Leigh Fraser
"A Superb Wren" by Sue Juha
"Nautilus" by Rosie Lyons
"Orange Poppies" by Carol Linton
"Black Swans" by Carol Linton
"Rooster on duty" by Carol Linton
"Still Life with Batik Cloth" by Carol Linton
"Still Life with Pear & Teapot" by Carol Linton
"Singing Magpies" by Sue Juha
"Shallow Inlet Mauves" by Leigh Fraser
Information Unknown. Artist: Leigh Fraser
"Looking up to the Eagles' Nest" by Sue Juha
"Fallen Leaves" by Sue Juha
"Leaping through Dandelions" by Carol Linton
"Colours of Autumn" by Carol Linton
"Lake Glenmaggie in B&W" by Sue Juha
"Cloud Burst" by Leigh Fraser
"Fish in Kelp" by Rosie Lyons
"Seahorse" by Rosie Lyons
"Magnolias" by Carol Linton
"Wooden Spoons" by Rosie Lyons
"Tablecloth with 8 Napkins" by Rosie Lyons
"Greeting Cards" by Carol Linton
"Greeting Cards" by Rosie Lyons
"T-Shirts" by Rosie Lyons
Comments
J.Riley, Waratah Nth - "Very Special!! Thanks." - 30th Aug 2019
W. Hoeksin, Moe - "Beautiful" - 31st Aug 2019
M. Wilson, Moe - "Thank you" - 31st Aug 2019
Lisa A., Sale - "Loved the photos xo" - 1st Sept 2019
P. Hay, Devon Nth - "I am always inspired by such talented artists and how creative they are." - 3rd Sept 2019
M. Stackhouse, Yarram - "Great display & inspiring work" - 14th Sept 2019
The Fowlers (x3), Yarram - "Excellent work by all !" - 14th Sept 2019
M. Mathan & Family, Packenham - "Beautiful place - Lovely painting displays and artefacts." - 16th Sept 2019
M.Zanella - "Lovely ecstatic display !" - 17th Sept 2019
S. Bucello, Foster - "Lovely exhibition" - 19th Sept 2019
L. Ferr, Yarram - "Wonderful exhibition !" - 19th Sept 2019
D. Walker, Toora Nth - "Lovely work" - 19th Sept 2019
R. McNeill, Traralgon - "Lovely display" - 22nd Sept 2019
K. Ralin, Traralgon - "Love the magpies [photo] x" - 22nd Sept 2019
L. Turner, Yarram - "I Loved Falling Leaves! <3 <3" - 22nd Sept 2019
J. Fletcher, Balmain Sydney - "Loved Autumn Surprise" - 22nd Sept 2019
Jane B., Langsborough - "Thank you Artists" - 24th Sept 2019